MUSEUMS. Pushkin Museum of Fine Arts
12, Volkhonka street
Metro station - Kropotkinskaya
Open Tuesday through Sunday, from 10.00 am to 07.00 pm.
Closed on Monday.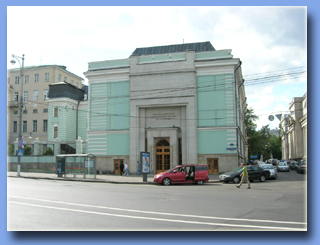 Building of the Western European Art of 19th Century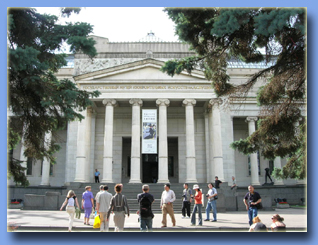 Building of the Fine Arts of ancient times and Renaissance
The museum consists of 3 buildings: European Art of 19th century, Classical and European art of ancient times and Private collection. A trove of half a million works, more than 3000 paintings and engravings from the 13th to 20th centuries.
If you go from Kropotkinskaya metro station you come first to the building of Western European Art of the 19th century. Paintings of Renoir, Matisse, Picasso and Malevich can be found here.
The next building will be with columns, it houses a rich collection of dyed plaster casts, copies of renowned sculptures of the ancient times, Middle Ages and the Renaissance. They were made on order by the leading companies in Europe and Russia (museums of Berlin, Munich, Paris, London, Rome and Naples). Ancient art collection includes a rare series of 23 Fayum portraits of the 1st-4th cc. A.D. painted on cypress panels. They were discovered in the 1880's in the burial places in Fayum, an oasis near Cairo, by the Russian Egyptologist Vladimir Golenishchev. They are the earliest painted portraits. Only 600 are known to exist. The museum holds Italian icons from the 13th-15th centuries, 1150 ancient Greek vases. Among the notable painters you'll find here the works of Botticelli, Perugino, Boltraffio, Borgognome, Ribera, Murillo, Rubens, Van Dyke and Rembrandt.
And the third building is the Museum of Private Collections (Volkhonka Street, 10). It contains private collections of Russian and European paintings, drawings and engravings; things made of glass, sculptures, things of the modernist style.










You are welcome to visit museums in Moscow!